Creative South
in an annual creative conference that takes place in my city of residence, Columbus, GA. It's now in its 10th year, and to celebrate the return of the conference in 2022 the theme was dubbed "Family Reunion", which also was a nod to the family-like atmosphere for which the conference has come to be known.
This past year was also my first time as a vendor in any event, and to pay tribute to Creative South I decided to create a commemorative poster which celebrated the amazing people who made up the Creative South family. This conference has been hugely influential to me as an artist and designer, and has lead to great relationships and opportunities. I am grateful for this community and wanted to give back and show my appreciation. 

Almost all the figures in the piece are based on real people who have made some kind of impact on me and/or the CS community. I also wanted to reference real events which are quintessential to the Creative South history and lore.
The posters where screen printed by
Chuck Bruner
. Recreating the level of detail and texture was a tall order, but Chuck managed to pull it off in a beautifully creative way. The prints are 18x24 and in 3 colors. As of right now, they are actually
still available on my web store
.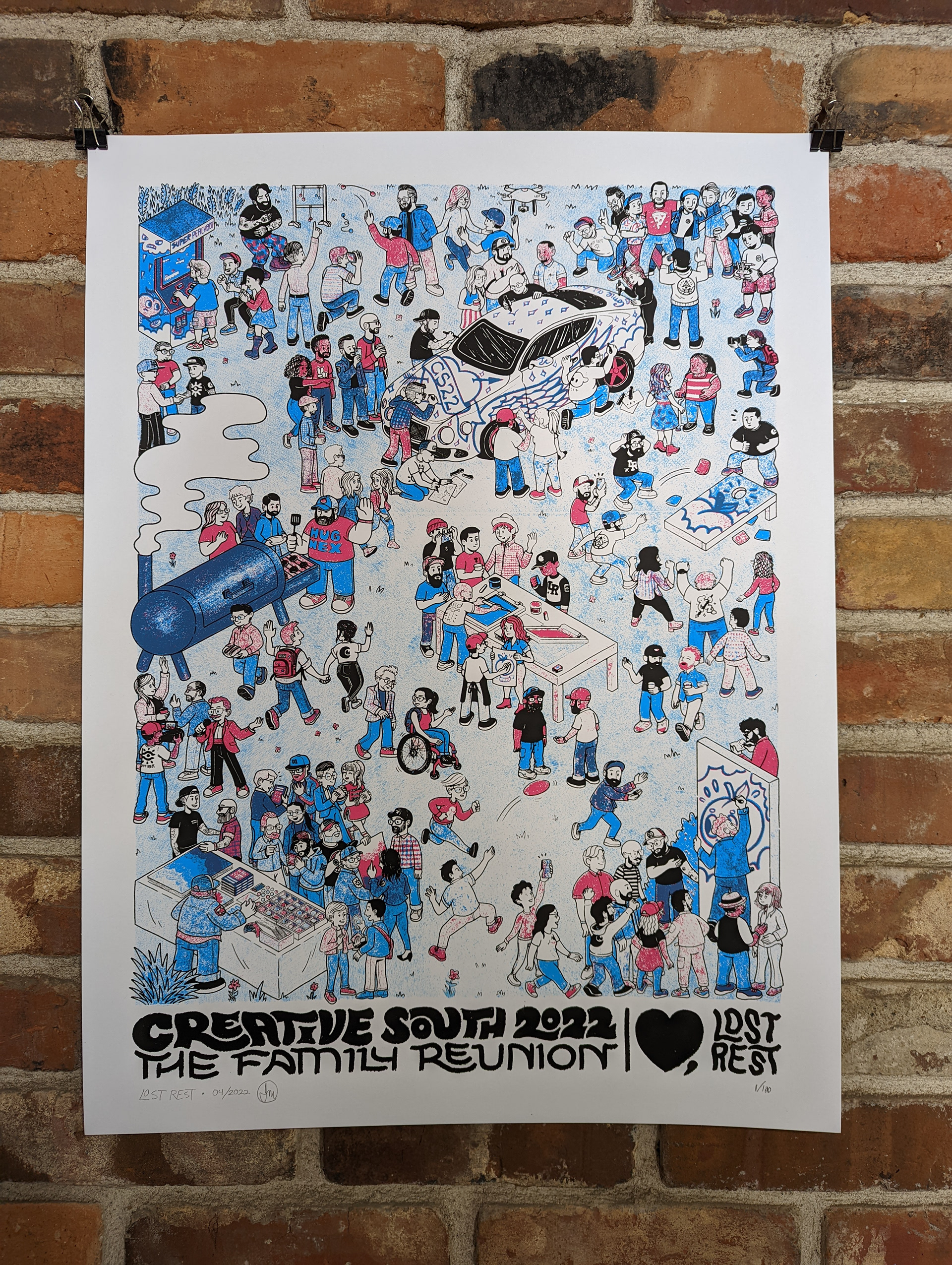 Here are some shots from my very first vendor booth. It was an exciting time to be an independent artist, and I look forwarding to vending again some time.
The other big highlight of Creative South 2022, for me anyway, was my participation in Ink Wars. Ink Wars is a live art contest in which selected warriors are tasked with creating the best piece they can on a door-sized panel, with only the provided materials, in 60 minutes, and in front of a crunk audience of creative peers. And the big catch: we're given a theme right before the clock starts. No prep, just experience and instinct.

This year the theme announced was "Family Tree". Then, after a quick countdown we were off to the races. It was still intense as always, but once I finally settled on my concept, I really went by instinct and let the creative spirit flow. And, with a little luck, I really surprised myself with how my piece came out. When it was all over, I was awarded first place!